How To Prevent Dryer Fires
Posted by admin
On March 3, 2023
0 Comments
cleaning, dryer fires, dryer vent cleaning, dryer vents, every dryer
What can cause a dryer fire?
The most common cause of dryer fires is failure to do a thorough cleaning. Because a lint trap is not a foolproof method for catching all the fuzzy stuff from clothes, lint can gradually build up and catch fire in the heating element or exhaust duct.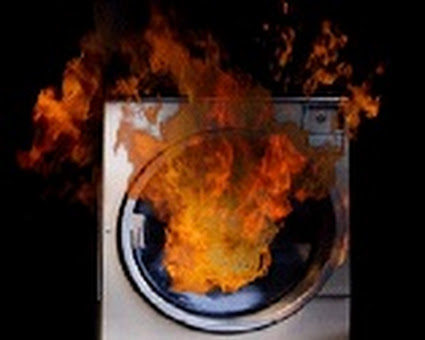 What could happen if my dryer catches on fire?
Kevin Sippy, an insurance adjuster in ERIE's Wisconsin Branch, inspects about five dryer fires every year. One particularly bad one happened when a customer laundered an item containing a type of rubber not meant to be dried at a hot temperature. When she turned the dryer to high, the material combusted and caused a blaze that destroyed $44,000 worth of property.
In another instance, a customer suffered $200,000 of property damage from a fire that started after she took her laundry out of the dryer. That customer washed towels that had been soaked in a sizable amount of sanitizing solution. She then placed the towels, which still had traces of the sanitizing solution, in the dryer. When the towels dried, they ended up spontaneously combusting and causing a fire that burned through an entire floor.
How to Prevent Clothes Dryer Fires
Replace ducts
Not all ducts are the same, and some plastic ducts are flammable. Most dryers use a foil ribbed duct, and the folds can trap dust and lint. That's why if you have the option, you should replace these with a smooth duct.
Keep The Area Around Your Dryer Clear
Have you ever considered how many items in your laundry room are flammable? From piles of clothes to specialized washing solvents, these items are huge risks. They might be daily essentials, but if your dryer caught fire, these items could turn a small flame into a major blaze. To prevent fire, keep your laundry room as clear as possible. Don't store clothes near your appliances and make sure your dryer isn't beneath a window with curtains, as these can easily catch alight.
Have your dryer routinely inspected
While electric dryers are far more likely to cause a fire, gas dryers are unique in that they have gas lines. Similar to checking a gas grill, It's important to periodically inspect both the lines and connections, checking for leaks and improper fittings. To be as safe as possible, this is best done by a professional once every year.